Download as PDF
All customers who wish to report a problem with their connection to JANET should follow the route set out in their fault reporting letter. Contact information is sent to the management and technical contacts by e-mail on an annual basis and includes the current telephone, fax and e-mail address of the appropriate fault reporting contacts. For organisations connected to JANET through a Regional Network, this will be the appropriate RNO. For ease of reference, site contacts may wish to print off a Record of Network Information and Contacts form and add the fault reporting information (see examples). If, for any reason, a site is unable to contact their RNO helpdesk, please contact the Jisc Service Desk.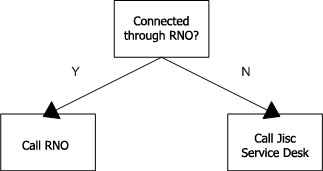 Sites not connected to JANET through an RNO should report all faults to the Jisc Service Desk.
If site contacts require confirmation of the appropriate fault reporting route for their organisation, they should contact the Jisc Service Desk.
Jisc Service Desk
The Jisc Service Desk is the point of contact for reporting faults with the JANET Operational Services provided on the JANET backbone under the SLA with Jisc. This includes problems with:
external circuits and all the associated routing and switching equipment
services such as Mailer Shield, Web Mail and Web Hosting.
If the fault to be reported is known to concern the JANET backbone, it should be reported to the Jisc Service Desk.