Download as PDF
By clicking on this link either on the main menu on booking homepage or the link in the top right corner of the homepage, users will be able to add frequently used venues to a favourites list. This list makes booking or launching a conference even simpler.

Figure 25: Add a favourite venue
If there are already favourites in a user's list, this is where they will be able to amend venue details. If the list is empty, a user simply clicks on Add New Favourite (Figure 25) and fills in the venue details (Figure 26). Once all of the details are filled in, clicking on Save Changes will save the information.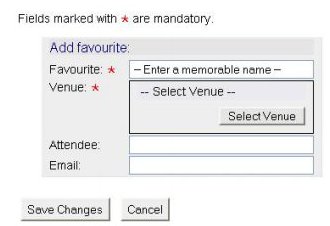 Figure 26: Venue details
If a user is in the middle of booking a conference and has no favourites, the Add Favourite button will be greyed out (as mentioned in section 2.2).