Recording your videoconferences

Download as PDF
Copyright
The Jisc website contains a document that examines the legal implications of recording lectures at UK FE and HE institutions - Recording Lectures: Legal Considerations. This document is a useful guide also for anyone wishing to record conferences. Note that the document is for guidance only and should not be taken as legal advice.
Recording your videoconferences
When booking your videoconference, you can choose to record your conference too. When booking a videoconference, you can click on the 'Recording' tab. You will then be able to turn recording on and choose the recording type, size and screen layout.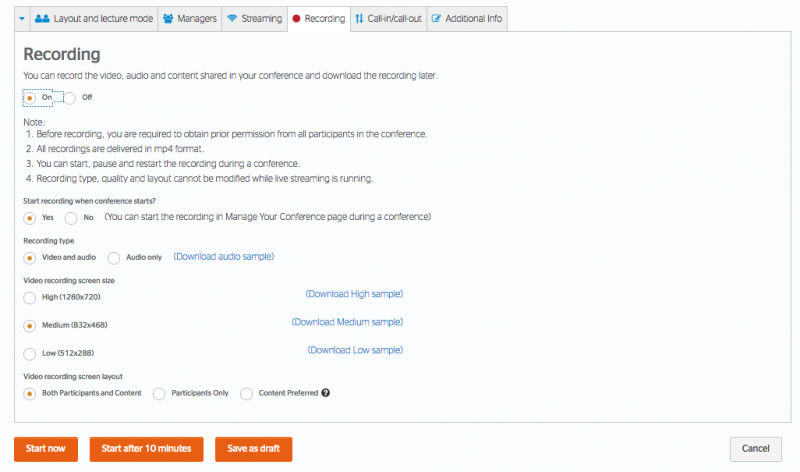 For full details about how to schedule or launch a conference please click here.
Various sizes and formats of video recording are available so that users can choose one to suit their requirements. It is recommended that users test a variety of option combinations to find which produces a recording that best meets their needs. 
For security reasons, recordings will only be made available to the conference booker.  The current Jisc policy is that recordings will be stored for two weeks before being deleted from the server. Once downloaded, the owner organisation can make the video available on a content server for others to use. The owner is responsible for deciding how the video will be made available and to whom.
NB: An authorised administrator at your organisation will be required to enable your organisation to access the recording feature. Please speak to your IT Team in the first instance if you do not have recording already enabled. 
Uses for Recordings
Possible uses may include:
replaying of lessons/lectures for absent students
online promotion
future demonstrations
meeting or interview reviews
performance feedback
continued professional development (CPD)