Download as PDF
Virtual rooms
For some meetings, sometimes scheduling a videoconference is not required. As an alternative, Vscene allows you to create a virtual room, which provides consistent joining information that can be shared with other participants. Participants can join a virtual room in the same way that they join any other conference – via VC hardware system, web browser or phone.
Joining a virtual room:
There are several ways to join a virtual room. Vscene allows a virtual room to be joined using:
Web browser
VC system (e.g. Polycom, Cisco, etc)
Telephone
Vidyo hardware system
If you are invited as a guest you will be sent joining details for the virtual room via email. The email will include a link to Vscene where you can find all of the options to join a room. The email will also include direct dial in information such as a GDS number, IP address and/or SIP number along with an extension number, which you can use via any VC hardware system. Other details include a phone number, for when you cannot access a VC system and a URL, which you can use to join via browser.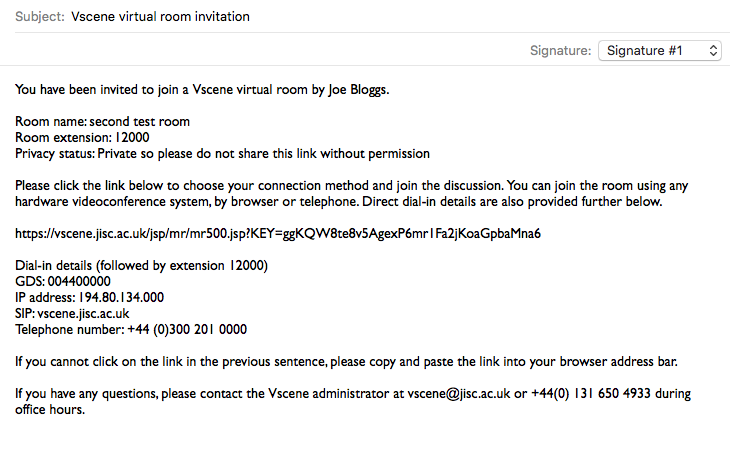 If you are joining via the Vscene website, you can simply join the room by clicking on the 'Join Room' button.

This will display all the connection details, for you to choose how you want to join. Please select a joining option on the left and follow the instructions.
Edit room description 
You can easily edit the virtual room description at anytime, by simply clicking on the edit button. The room name cannot be edited.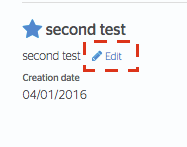 Vscene registered videoconferencing system
One way to join a virtual room is using a Vscene registered videoconferencing system. By clicking the 'Join room' button or by going to the connections details on the Control Panel, you will be able to search for a registered VC system. Just click on the VC systems tab, and start typing the name of the system in the text box. VC systems that you are eligible to use will be displayed for you to select. Once you have selected a registered VC system , simply click on the 'Connect' button to join the virtual room.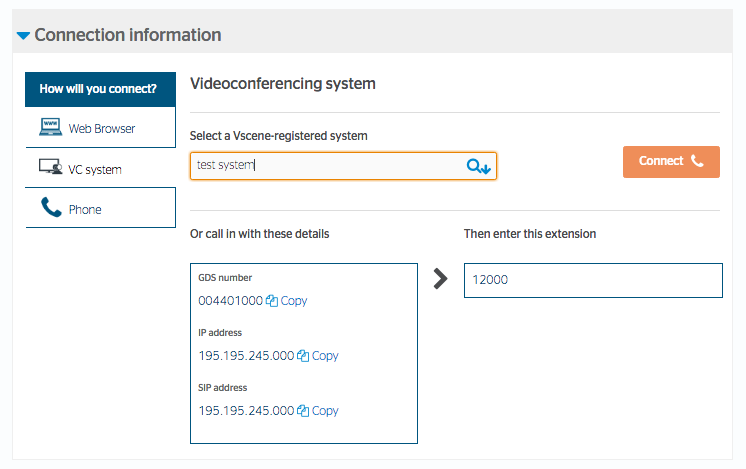 Virtual room control panel
The virtual room control panel allows you to view all of the details associated with your virtual room. Via the control panel, you can:
Invite participants to use your room
View the privacy settings for the room
Set an icon or upload an image/icon to make it easier for others to search for your room
Turn streaming on or off
Turn recording on or pause it
Activate lecture mode and select lecturer
Open or close the room to control if new participants can enter
Delete the room
Under the 'Connection Information' tab you can:
View all of the different ways a participant can join your virtual room
Create an email to share the joining information
Under the participants heading you can:
View who is currently connected to your virtual room
Mute the video or audio for any or all the participants
Select between three layout options for any individual participant using a VC system
View who the owners of the virtual room are – this is useful should you have any problems joining a particular room
Disconnect any or all participants
Rescind an invitation and access to a virtual room for a previously invited participant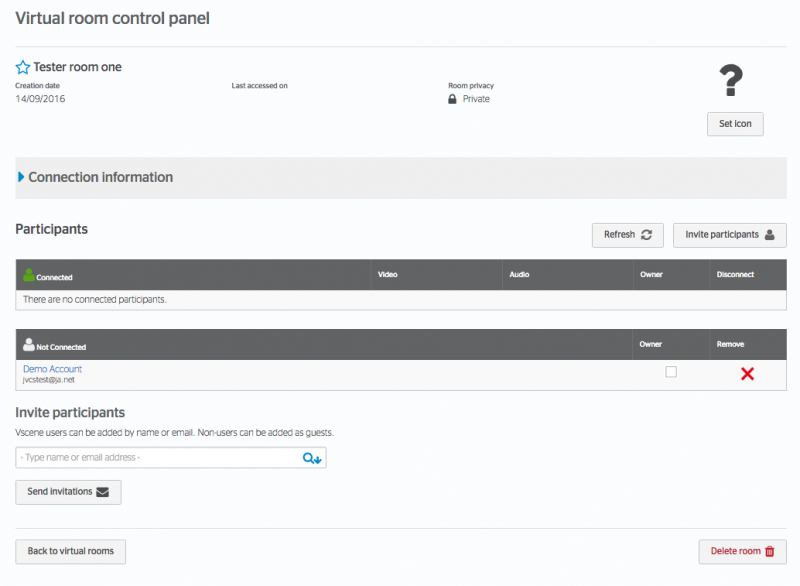 Creating a virtual room
To create a virtual room, simply go to the 'virtual room' tab and click on 'create room'. There are several choices for room setup:
Room privacy settings

Public – any Vscene member can search for, find and join the room
Private – only participants who have been invited can search for, find and join the room

Room name and description
A room icon
To ensure all rooms are unique, Vscene will indicate that a room name is available for use or if it is already taken.
When you are creating a room, you have the option to invite participants to use the virtual room. You can also make any participant a room owner, who will be able to manage the room. You can invite participants at any time.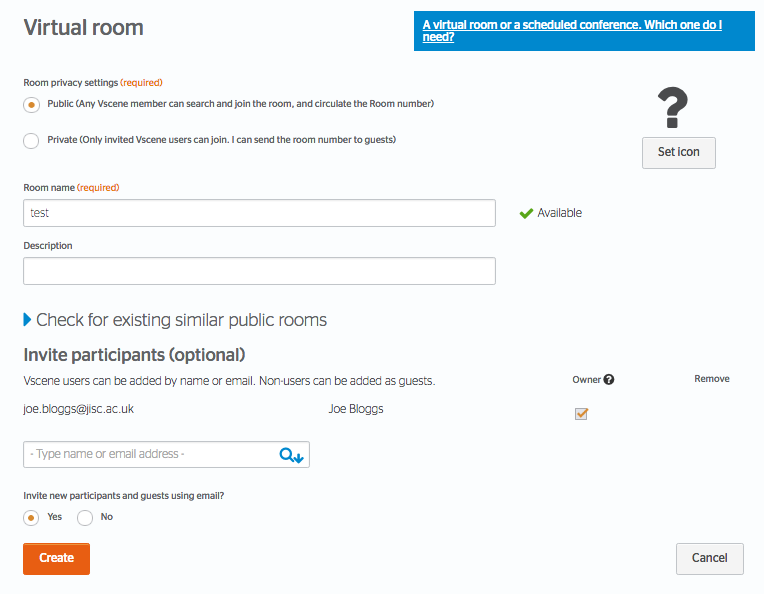 Search for a virtual room
You can search for any public virtual room by either using the 'Virtual room' tab and clicking on 'Search rooms' or by using the search box in the top right corner of the page. For more information see the learn more pages about search.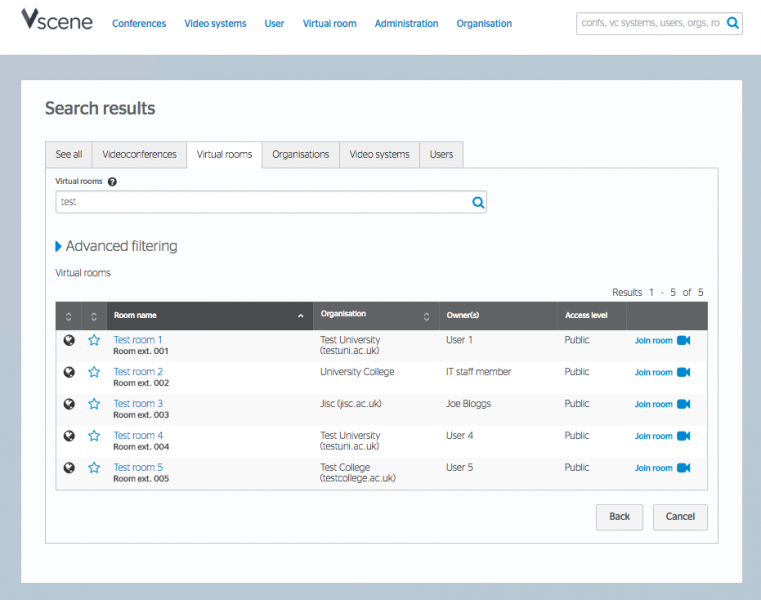 Room information 
To see information on any room, simply click on the room's name. A separate pop up will appear detailing the room connection details, as well as the privacy settings, room owners, and buttons to take you to the room's Control Panel.