Vscene updates and revisions

Download as PDF
This is a historical list of updates and system revisions
Release 23  Planned deployment 6th March 2017
A completely new videoconferencing interface for browsers, usable on Chrome, Firefox, and Opera, and on Linux. Read about the features on the Learn More page.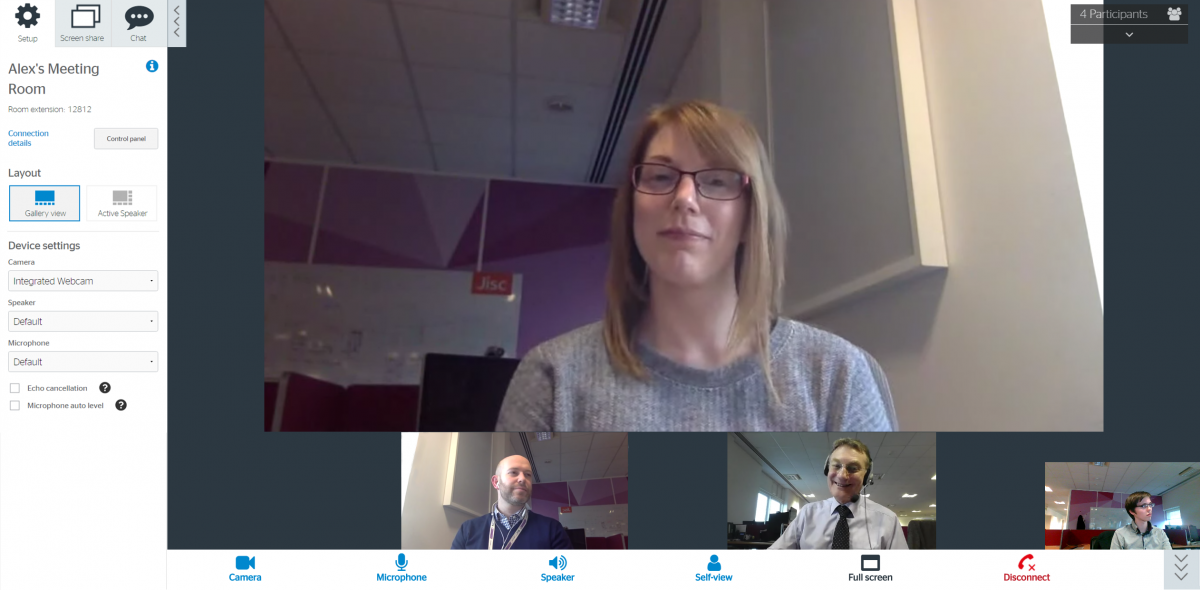 Chat functionality (group and private) via the browser interface for every conference and virtual room. The chat can be used via the chat tab on the sidebar—you can use group chat to message everyone in the videoconference, and private chat to talk to individual participants.

Group chat is archived and available to virtual room owners and conference managers to download as a .csv file (viewable in Excel).
Screen sharing is included in Chrome. Choose from any connected screen, or individual application. Screen sharing is only available in Chrome and, unfortunately, not Firefox at the moment. We will address this as soon as Vidyo (the infrastructure manufacturer) release an update to address this issue.
Learn more about the new interface here, or see it for yourself by joining any virtual room using Chrome or Firefox.
Links have been provided to "Learn more" information in numerous places across Vscene. Users can access the in-context relevant pages for support on our community site.
Release 22  Deployed 10th February 2017
New home page layout
Direct dial options now visible allowing users to directly dial into a session
Shorter GDS number for VC systmes now being advertised (004400) to make dialling in easier
It is now possible to classify a guest's dial-out number as a SIP address.
Release 21  Deployed 25th November 2016
Several enhancements to Control panel functionality, most importantly Mute all and disconnect all participants.
Some minor bug fixes
Release 20  Deployed 20th October 2016
Recording and streaming capability added to Virtual rooms
You can now live stream or record meeting held in any Virtual Meeting Room. Live streams and/or ecordings will continue until stopped or one minute after the last attendee leaves the room. Recordings can be in 3 levels of quality or simply audio only, and will be available to the room owner that initiated the recording for 14 days after creation.
Release 19b  Deployed 26th September 2016
Added capability to register a Vidyo room VC system, and create scheduled meetings which will automatically connect if this feature is set on the device.
Recording and streaming control enhanced after issues were reported by users. Multiple recordings can now be downloaded from Vscene for the same session.
Release 19  Deployed 9th September 9th
Improved connection details page for Virtual rooms, in line with the connections information for live conferences.
Several bug fixes relating to conference control and email notifications.
Release 18  Deployed 26th August 2016
The management of conferences, using a control panel now has a simplified layout to make the options clearer.

If you select a live stream, you will see the button change to the image below: 

On the next image, you can see the duration of the conference, also that recording has been selected.

For each participant you see how they are connected, also you have the options to mute audio and video.
Room system participants can change the layout during the conference.
For room system participants you can preset the layout as shown below.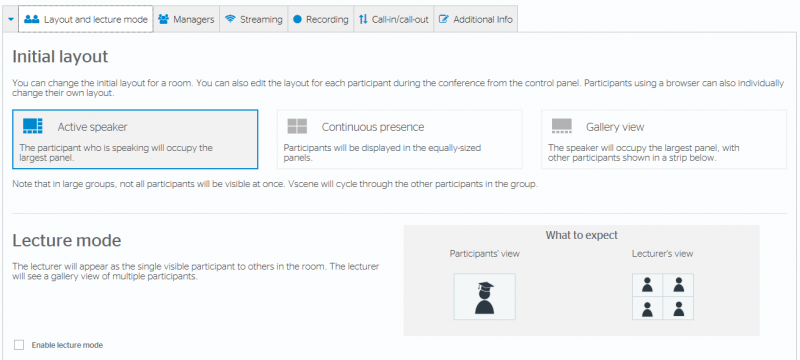 Connection information is as shown below: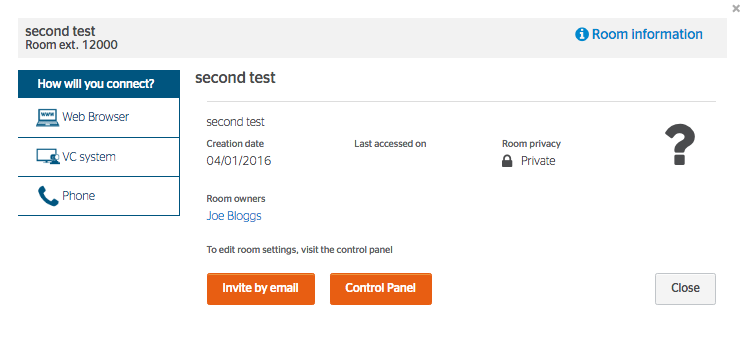 For Virtual meeting rooms there is a redesigned search page to make it easier to find a room.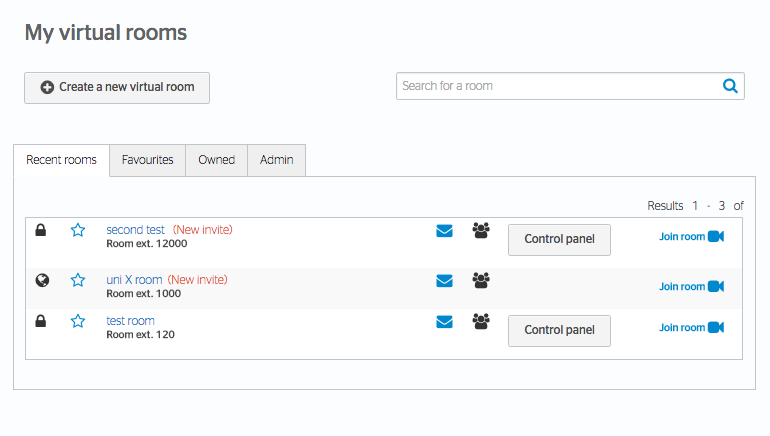 The padlock denotes a private room, the globe a public room. The star shows your favourite rooms. On the right hand side, the access level is shown, admin refers to the private rooms, where access is restricted. 
If you are an organisation administrator, when you select a list of your virtual rooms, shown below, clicking on the admin tab will show all rooms over which you have authority.  
Release 17  Deployed August 15th
We are introducing the latest changes in phases to ensure a smooth transition over several weeks starting 15th August.
New hardware at the heart of Vscene
Vidyo hardware is now supporting the Vscene service, replacing the Cisco MCU hardware that has served us for the past 7 years. With the change to Vidyo, the capacity for recording and streaming has been increased. The service now has the ability to burst 'into the cloud' in times of peak demand.
New page designs
We have developed some new control panel designs and conference scheduling pages. The changes are designed to make it clearer to decide how you want to join a conference. To help you decide whether you need a scheduled conference or a virtual meeting room we have added some explanatory text. 'A virtual room or a conference. Which one do I need?'
Virtual meeting rooms-enhancement and redesign
There are new features in Vscene's virtual rooms, which we hope you will find easier to use. It will shortly be possible to record a meeting taking place, and a phone participant will be able to join. Virtual meeting rooms provide a flexible meeting space for you, your colleagues and collaborators. Meeting rooms can be either public (open to all) or private, (limited to specific people and guests). Vscene virtual meeting rooms give all participants a consistent meeting link.
New numbers and dial formats to access conferences
There is a new SIP dialling format.
Vscene booked conferences and virtual rooms can now have the SIP dial-in string: conf/meetingID@vscene.jisc.ac.uk. e.g. 12345@vscene.jisc.ac.uk.
The Global dialling scheme directory numbers for hardware (E164) have been shortened.
There is a new range of numbers for dialling into conferences as a telephone guest. You will now see a number format of 0300 333 8840. There will be a 6 digit PIN number to key in to join your conference as a phone participant.
Release 16
A number of enhancements have been made to the interface, including some bug fixes and functional changes.
Here are the main ones:
On the home page we have added the words Join/Start conf by the small camera icon to help people into their conference.
When scheduling a conference the time format has been relaxed to enable other characters to be used when entering the time-so if you don't type the correct time the system will do it.
Release 15  Deployed 10th June 2016
Vscene Desktop replaced by "Use Browser"
To simplify the terminology used on Vscene we are no longer using the term "Vscene Desktop" to describe using a browser (and a Vidyo browser plugin) to join a conference. Users will now see references to just "Use browser" when adding themselves or others to a conference.
All the previously registered VC systems that used Vscene Desktop have been removed and users will now just see the term Use browser. Any user that had a Vscene Desktop system as their default will see Use browser as their default when scheduling a conference.

Choose how you will normally join a conference.
Many users have a favourite way to join a conference. This was previously known as a default VC system, but a default will now be referred to as a favourite.
Unless a user has already selected a favourite VC system they will be asked at next log in to select one. Users will have the choice to either select to use their browser as their favourite way to join a conference, or choose from a list of shared VC systems available in their organisation.
The change has the benefit of improving the scheduling or launching process, as all users will have a favourite system already selected. As before, other VC systems can still be allocated to a participant when scheduling a conference.

Users can change their favourite way to join a conference at any point via the My Video Systems page.

Easier access to conference features
A section of the Schedule/Launch conference page has been redesigned to enable easier discovery and access to additional conference features.
A new tab layout displays the additional conference options enabling more users to discover the facility to:
Add additional live managers
Live stream the conference
Record the conference
Change the layout of participants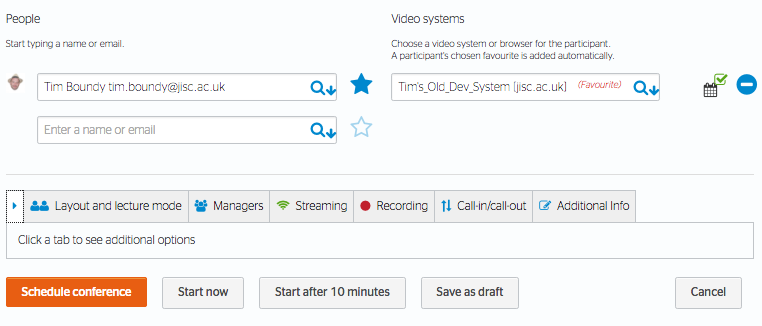 Easier editing of conference start time and date
Following user feedback the time entry boxes and calendar layout have been modified to make it easier to set the time and date for your conference.
Easier editing of recurring conference series settings
Conferences that recur as a series can be complicated to set-up. We have made design changes to the recurrence settings section so that users can feel confident that they have made the correct selections.
Release 14     Deployed 22nd April 2016
Improved naming convention of VC systems
We have introduced a new naming convention for videoconferencing systems, to remove any confusion with email addresses. The previous format included the '@' symbol, however the new naming convention uses the room name with brackets around the organisation name. All existing VC systems have been changed to the new format. So lumen-house-membury-room@jisc.ac.uk becomes lumen-house-membury-room[jisc.ac.uk]. This does not require any changes by users or administrators.
Conference management delegation
For those users who manage conferences, you can now nominate another colleague as manager to edit a conference before it goes live, and manage the live conference in real time. This can be useful if the conference organiser will not be present, and allows the nominated manager to make changes on their behalf both before and during the conference.
Report on streaming viewers
If you run reports from Vscene, as an administrator, it is now possible to create a new report providing the number of distinct viewers that accessed the stream.
A report can be run as shown below.

ISDN Bridging - change to the service from 1st August 2016
When the Janet Videoconferencing service (JVCS) was launched in 1996, ISDN played a major role as the leading technology of the time. Since then, the ability to bridge between ISDN and IP technologies has been recognised as a basic function of the service.
Most users have migrated from ISDN to IP systems (using the internet) over the past 15 years as they don't require dedicated lines from telecoms suppliers with the associated costs.
Usage has steadily decreased to the extent that the cost to maintain the ISDN capability now far outweighs the benefit. To keep Vscene sustainable, Jisc has decided to remove ISDN bridging support from 1st August 2016.
Users with ISDN only equipment can find more information at: https://community.jisc.ac.uk/library/network-and-technology-service-docu...
Please remember that almost any good specification PC or laptop can now be used with Vscene and the 'use browser' option creating a very low cost solution.
These changes will not affect the telephone dial in facility of the service, which is being expanded later this year to allow users to dial into meeting rooms.
Release 13     Deployed 26th February 2016
Https security and encryption is now enabled throughout the entire hardware estate, and resource management system (RMS).
We have added a Favicon to the website, improved the recurrent booking editing capability and the speed of launching the conference management page.
If you close a virtual meeting room to prevent others joining, people trying to connect to the room are warned it is closed and managers of the room see an icon to this effect, to remind them.
Speed of response of whole site increased, improved handling of large conferences.
There are several minor bug fixes and administrative enhancements as well as improvements to some reports.
Release 12      Deployed 12th December 2015
The term "Meeting Room" was changed to Virtual Rooms on the "Home" and all subsequent page references, as users were not associating the term with the facility to use a virtual meeting room.
Enhancements were made to reduce the time it takes to launch a session, and the Community Login facility was removed as many users found it confusing and few used it.
Release 1 to 11      Deployed August 2014 to December 2015
Numerous enhancements to interface, bug fixes and functional changes.
Enhancements/features in development or being planned
Usability enhancements following review
Text chat
Mobile device app integration
WebRTC
Lync/Skype for Business integration
Moodle/VLE integration
Simplified reporting capability
page revised by pb 3rd March 2016