Download as PDF
Your video systems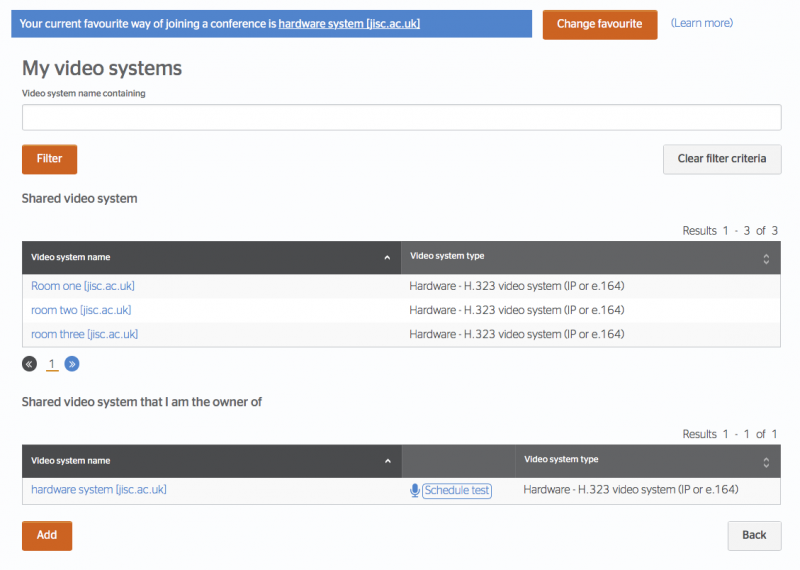 Under the 'Video Systems' tab, you can see all of the video systems that you are able to use within your organisation. These are listed within the main table, along with the system type (i.e. hardware or software). If you are an owner of a video system, these will also be listed in a separate table, where you can easily schedule a test should this be needed.
Every user has the opportunity to choose a favourite way of joining a videoconference, which is shown at the top of the 'My Video Systems' page. Your 'favourite' will be your default way to join a conference when you or another user is scheduling a videoconference. You can change your favourite at any time.
Searching for a video system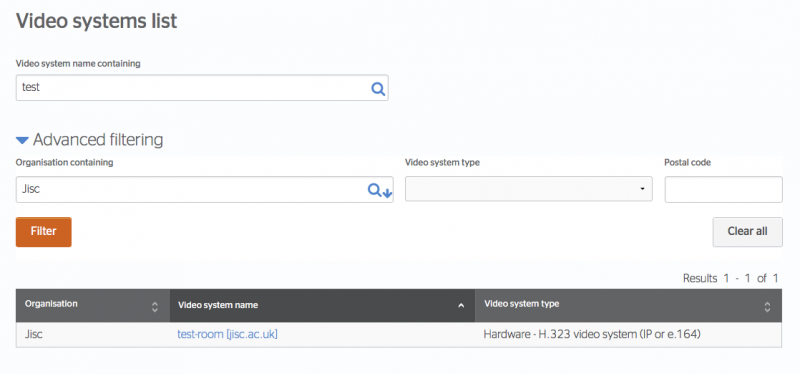 If you need to search for a video system, you can simply use the search box on the top right hand corner of the page or find 'Search video systems' under the 'Video systems' tab.
Registering a new video system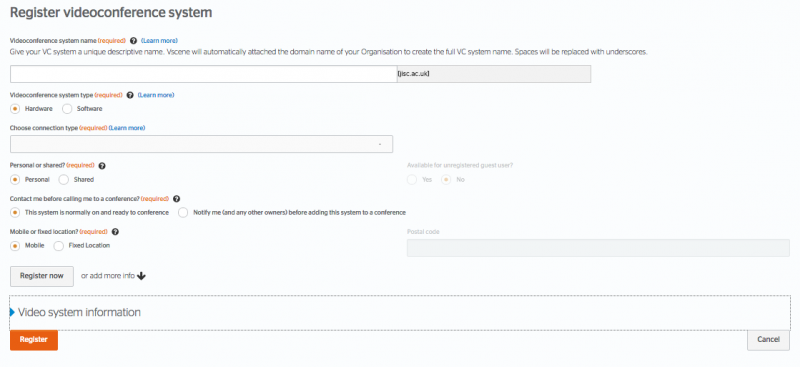 It is quick and easy to register a new videoconference system. There are a number of required fields but the more information you add, the easier it is for other users to identify the system. It is especially useful if you give your system a meaningful name, (e.g. universityname_buildingname_roomnumber). Additional information can also be added, such as room photographs, number of onsite technical support etc, although this information is not required. 
Modifying your video systems details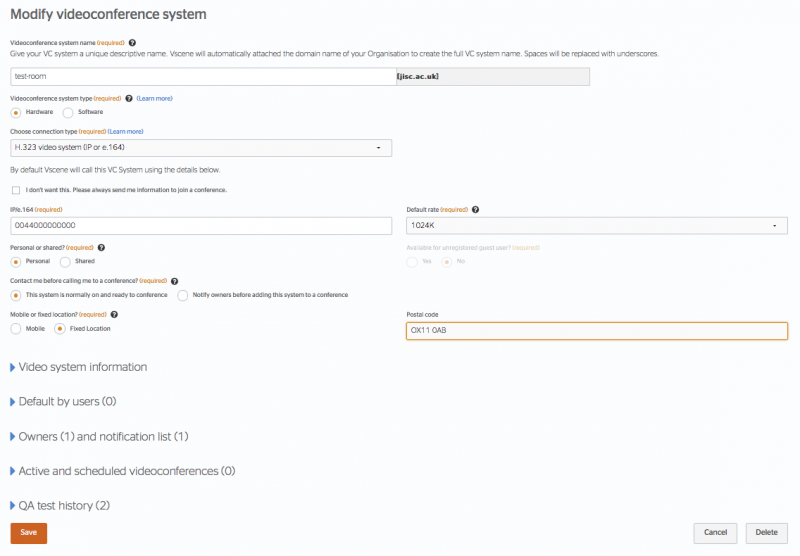 Should you need to, you can modify details for your registered videoconference system. To modify details you must be either an owner or administrator for that system.
View your video systems details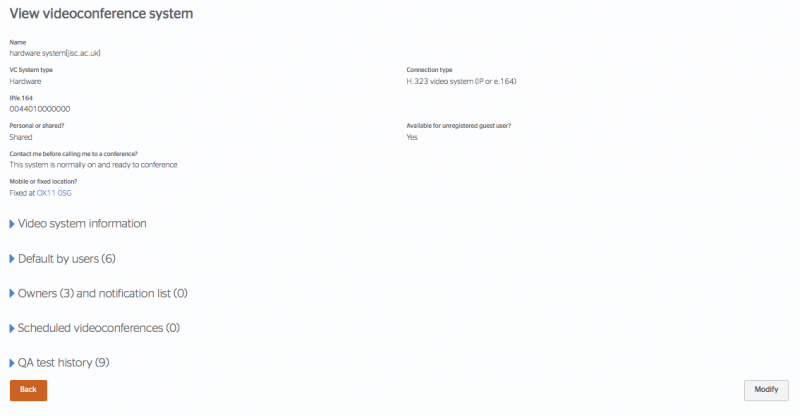 You can view details of a videoconferencing system at any time, by clicking on the name of that system. This may be useful if you need to find a suitable videoconferencing system for an upcoming videoconference. You can also see who the owners are of that particular system if you need to contact them.
Scheduling a test with the Vscene Operators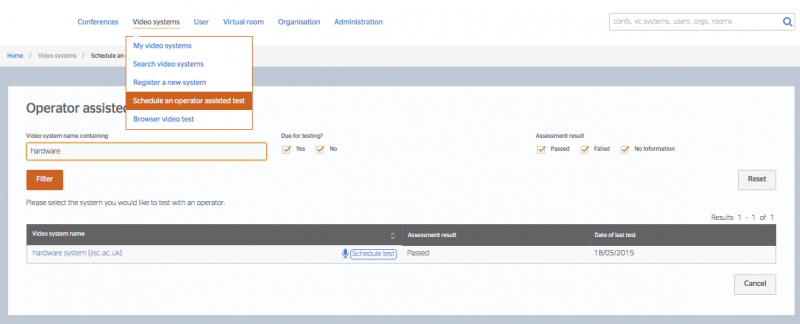 We recommend that you annually test your videoconferencing system and our friendly Vscene Operators are here to help. The test takes no longer than 15 minutes, and can be scheduled when it is convenient for you. To schedule a test, either click on the 'Schedule test' button next to the video system to be tested or click on 'Schedule an operator assisted test' under the 'Video systems' tab.
Checking available testing days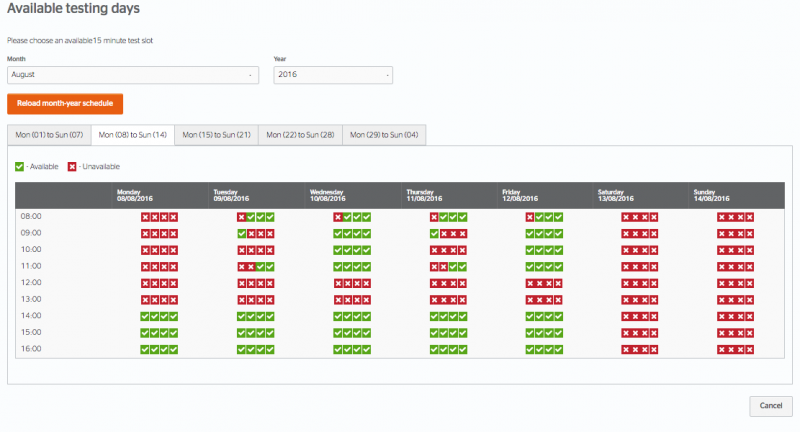 To help with booking a suitable test date and time, you can see all the available upcoming slots. Simply click on one of the available slots. Before confirming the slot you can view the details of the test and have the opportunity to change the date/time if necessary. To confirm, click on the 'Schedule test' button.
Operator Assessment
Once you have conducted a test of your hardware system, you will receive confirmation of the pass/fail. You can reschedule a test at any point.
Test your browser 

Similarly to the hardware system test, you can test your Vscene Desktop prior to a videoconference. Simply go to the 'Video systems' tab and click on 'Browser video test'. There is a public virtual room, which is available 24/7. To enter, simply click on the join button. 
Before joining the test room, you should select your camera, microphone and speaker settings. Vscene should automatically detect any devices connected to your PC. We recommend using a headset when using any browser-based system. Vscene Desktop currently does not support Chrome.
Inside the test room, you will see yourself on one half of the screen and a video on the other half. This video has audio, so you can test not only your video but also your audio settings. See 'Browser test room' for more information.