T.120 document and data sharing standards

Download as PDF
The main standard in use for data sharing within videoconferencing is T.120 Equipment that is T.120 compliant interleaves the data sharing information within the pass band of the H.320, H.323 etc. conferencing channel. This is an asset as sound, vision and data are shared across a single channel, but it can also be a hindrance as with low bandwidth channels, e.g. ISDN2, the T.120 data exchange part can degrade the audio and video signals to an unacceptable degree. For further information, see the VTAS guide, Data Sharing within Videoconferencing.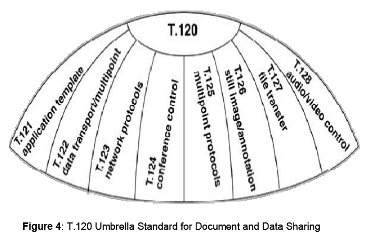 The T.120 standard for data exchange includes its own group of sub-standards e.g. T.127 defines the standard for file transfer under T.120. T.120 is designed to fit within the data stream of the conferencing system, i.e. H.320, H.321, H.323 and H.324 – an umbrella within an umbrella.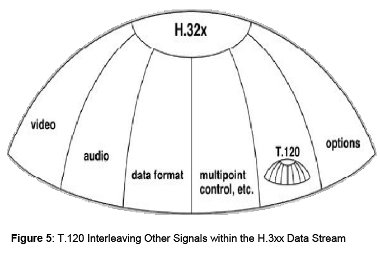 Figure 5: T.120 Interleaving Other Signals within the H.3xx Data Stream
1 T.120 Sub-standard
T.121
Generic application template to which application software must conform to operate under T.120.
T.122
Defines the transport of control and data sharing in multipoint conferencing.
T.123
Defines the protocol standard for each particular network supported, i.e. ISDN, GSTN, IP etc.
T.124
Generic conference control for the start, finish and control of conferencing.
T.125
Multipoint communications protocol.
T.126
Multipoint still image and annotation protocol, i.e. to enable the use of a whiteboard and shared applications.
T.127
Multipoint file transfer, i.e. to enable file transfer during a multisite conference.
T.128
Audio and video control.
2 T.140 Text Conversation
Not included within T.120 but sometimes seen in videoconferencing products. Equipment designed to T.164 is compliant with the protocol for multimedia text conversation.