Live videoconferencing streaming

Download as PDF
Software requirements:
A modern web browser
Quicktime 6.5 and above
Windows Media Player (requires IE and Windows 2000, XP, Vista or 7)
Java (standard edition)
How to Use Live Videoconference Streaming
The Streaming feature may be selected when a videoconference is being booked from the Confirm booking page (Step 3 of 3). The conference Booker should click Set conference options and tick the Videoconference streaming tick box.
Once the conference booking has been completed, a web link to the stream is generated and can be found on the booking confirmation page.  Additionally, an email will be sent to the conference Booker containing the web link, which should be forwarded to those users wishing to watch the live videoconference stream.
Note: Currently there is a maximum of 25 simultaneous streamed connections available per conference.  If a larger number of streams is necessary, please contact JVCS on 0131 650 4933 at least 5 days in advance of the conference to check resource availability.
When participants click on the web link the following box will appear.  At this point preferred streaming options should be selected: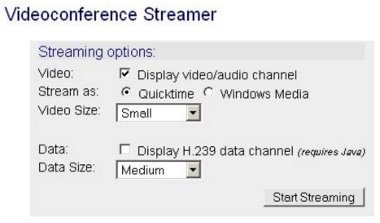 'Display video/audio channel' is ticked by default
Under 'Stream as' users should select their preferred streaming software, QuickTime or Windows Media. Note: Once the Start Streaming button is clicked, Windows Media will try to download a piece of software (codec) from a Microsoft server. In order to install this codec, participants will need administrative rights on their PC/laptop. See A2 below if the codec doesn't automatically try to download.
'Video Size' may be adjusted to suit the desktop/laptop screen size.
Participants wishing to view the data channel, e.g. for a PowerPoint presentation, need to tick the 'Display H.239 data channel' box. If participants only wish to view the data channel they need to untick the 'Display video/audio channel' at this point.
As in Step 3, the 'Data Size' may be adjusted to suit the desktop/laptop screen size.
Click 'Start Streaming', the stream will start playing.
To change any of the above steaming options, participants need to close the streaming window, restart the stream by clicking the web link, changing the required option and clicking Start Streaming again.
Note: if the H.239 content channel is being used as part of a conference, the content channel stream does not have the same security as a video stream and could, in theory, be accessed by unauthorised viewers.
FAQ
Q1. I am having difficulties seeing the stream?
A1. Make sure you have the latest versions of the following installed:
QuickTime or Windows Media Player
Java (standard edition)
Q2. Where can I get the Windows Media software (codec) from if it doesn't download automatically?
A2. The codec is available at:
http://194.80.134.71/codian_video_decoder.msi
Q3. What do I do if the streaming application opens but there is nothing displayed on screen?
A3. Check your antivirus and firewall setting to see if the streaming application is being blocked. If you are unsure about this contact your system administrator or IT department. Also ensure the 'Display video/audio channel' hasn't been unticked by mistake (see above).
Q4. I have tried the above and streaming from the Booking Service still doesn't work; what can I try next?
A4. For the JVCS stream feature to function through a firewall using QuickTime, TCP port 554 and UDP ports 6970-6999 need to be unblocked.  For Windows Media Player TCP port 1755 needs to be unblocked.
Check with your Network Administrator or IT Department to ensure these ports are open and traffic is not getting blocked.